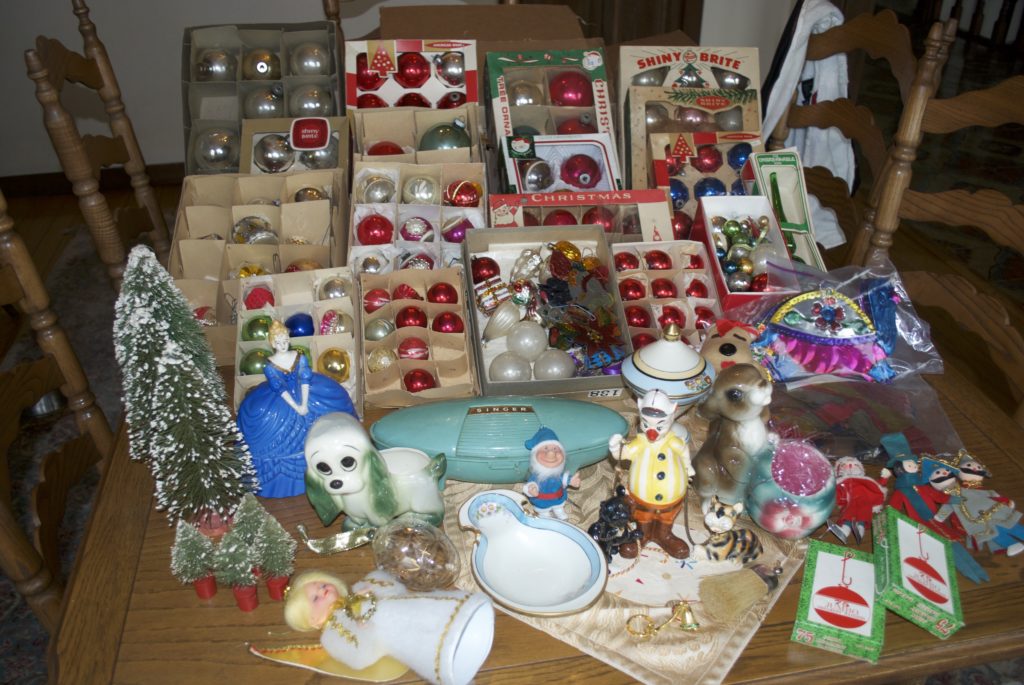 Find My Finds: Amazon ~ Etsy ~ Bonanza ~ Ecrater ~ Poshmark ~ MissBargainHuntressShop
Of course it has to pour rain in between days of sunshine when I go to an estate sale where I have to carry out armloads in multiple trips.  Because of the rain, I was hoping it wouldn't be that crowded.  But all of the regulars were there… before me.  But apparently they are not interested in highly collectible Shiny Brite ornaments from the 1950's.  Because I am.  They usually go for about $30 a box, even better when you have the vintage box, which, as you can see, were widely available at this sale.  The nice lady at the sale made me a space on a table to put my stack as I added to it, constantly looking over my shoulder to make sure someone else wasn't thinking that it should obviously still be for sale on that table in the middle of the room. My first haul was $27 – the boxes were $1 each.  And I should have bought more… yes, there were more, not many more, but some.  Because when I got home and reorganized the boxes into all like items, I knew I should have bought that one with the broken one because I could have easily replaced it after going through them all.  But let's learn that lesson, "Buy it all," (when it's one dollar) once again and move on.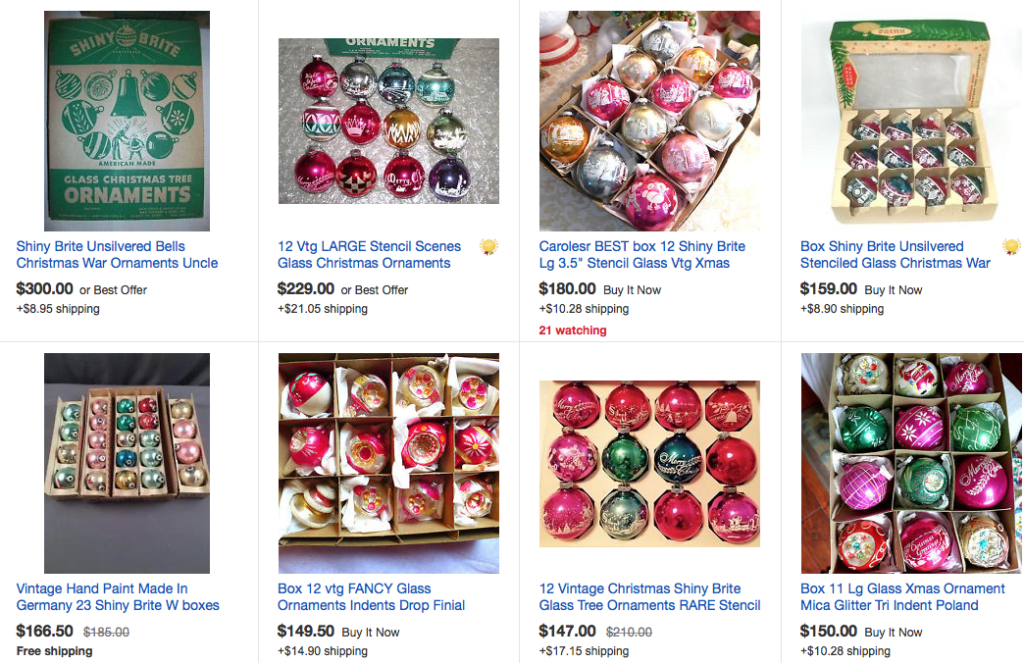 Beyond the vintage glass Christmas ball ornaments, there were bags of Mexican Tin ornaments, several bags of vintage felt ornaments, a vintage Angel topper, a vintage green topper, a glass egg ornament, vintage hangers and vintage mini trees.  I paid very little for all that were included in my initial $27 haul.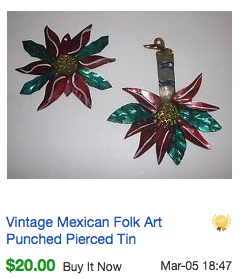 Second haul were vintage ceramic figurines.  Most, if not all, are from the 1950's.  Including a green dog planter/vase, a rabbit vase – perfect for Easter, a Forever Yours Giftware Japan Clown with black panther and tiger on leashes including the cardboard stand, a Singer Buttonholer, and a KTO Japan Blue covered Lady Box. That armload was $5, $1 each.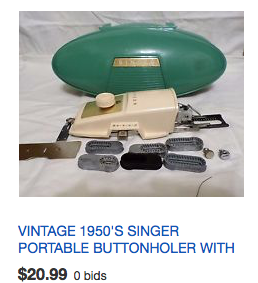 Had to make one final trip.  That time I brought a bag with me.  I found the Seito covered dish at $1, one more box of ornaments, $1, and two more bags of vintage Mexican Ornaments, $2 each.  Another $6.
So for $38, I came home with that haul. Potential $780 gain.
Find My Finds: Amazon ~ Etsy ~ Bonanza ~ Ecrater ~ Poshmark ~ MissBargainHuntressShop