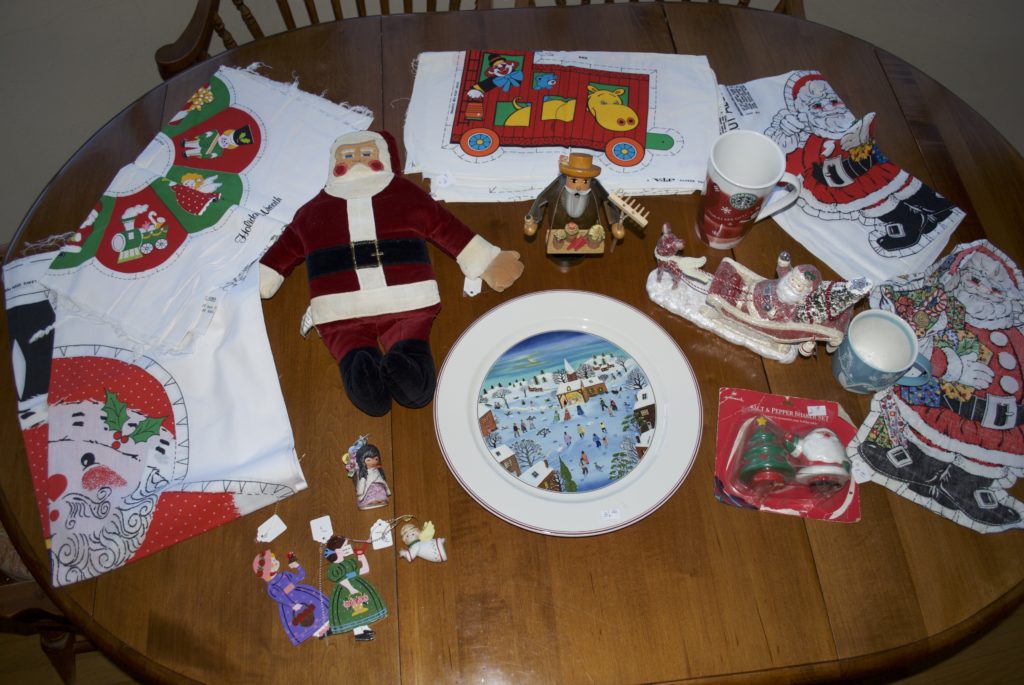 Find My Finds: Amazon ~ Etsy ~ Bonanza ~ Ecrater ~ Poshmark
I just happened to remember that the local Hospice Thrift Store's Annual Christmas Sale should be starting soon and so I called the store.  It was that day.  Darn it, I was about an hour late from the opening.  But when I arrived, there really weren't that many people there.  Maybe I really was late, or everyone else didn't remember either.  Plus it was earlier than previous years.  But then again, I didn't find as much as I usually do.  I did think they had raised their prices, but maybe I had lowered the amount I was willing to pay.  There weren't as many $1 ornaments as I had found in the past, but the early birds may have found them before I did.
I did find several cut-out fabric crafts at $1-$3 each.  A vintage plush Santa handmade in Columbia for Favorite Things in Carmel Valley, CA. Hallmark Salt & Pepper Shakers.  A Villeroy & Boch large Christmas Charger or Platter.  A German Smoker for $6.  Two Starbucks mugs at $2 each.  A Goebel ornament, a Dakin Angel ornament from 1984, and two wooden girl ornaments.  Plus a nice Santa in his sleigh with a red reindeer.  In total I spent around $50.  Potential Gain $250.
Find My Finds: Amazon ~ Etsy ~ Bonanza ~ Ecrater ~ Poshmark