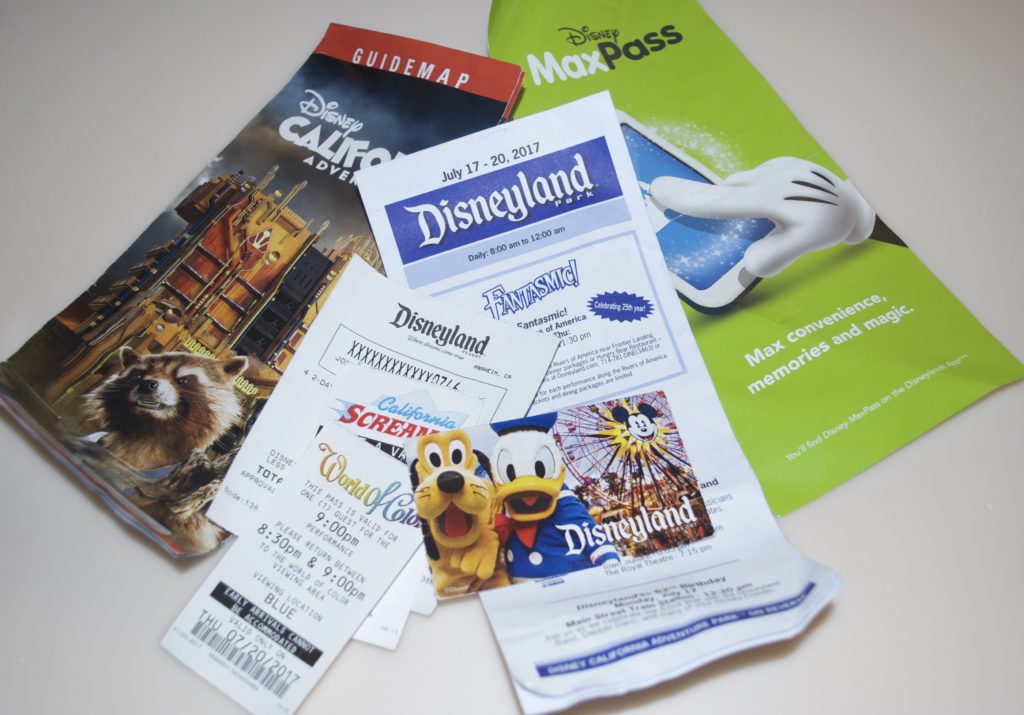 Years ago I published many a post on the finer points of Disney World, and I have to say, in reading them back, I was quite the little writer back then.  I really need to get some of that old mojo back:
Last week, my family had the pleasure to visit Disneyland and California Disney for one evening and then one full day.  On the first evening we hit Disneyland to catch some rides in the later hours with the shortest lines, as well as the Electric Light Parade and some Fantasmic action.  The second day we arrived upon the opening, started at California Disney and then bounced back and forth between parks until the wee hours of the night.  I don't believe my family has been to the parks in many years, having to refer to photographs to remember when the last time was.  Many things have changed and many things have not, but I thought it well worthwhile to give you the Pros and Cons we recognized during this brief but busy trip.
Disneyland Cons:
Trash Pick-Up: While in my past visits I was amazed at the constant clean-up by the white-clad crew buzzing about with their brooms and dustpans, I think I only saw one this entire experience.  There was trash in the corners of wait lines for rides, specifically Pirates of the Caribbean.
Late Night Herding: Returning from California Disney as it closed at 10:00 with the hopes of hitting a few more rides until Disneyland's closure at midnight, almost everyone else was doing the same thing. So they had cast members stationed with their glow lights herding everyone like sheep or cattle, you choose, all in the one designated narrow direction.  If you have claustrophobia, do not get stuck in this.  It was demeaning, uncomfortable and unhealthy.
Fast Pass for Night Shows: If you do not have a Fast Pass for the evening shows, cast members with glow lights will actually physically push you along so that you cannot watch the shows outside of the roped area. You could almost file a lawsuit for battery.  I paid almost a thousand dollars for my family to be at the park and I'm not allowed to watch a show from the walkway?
Surveys: I was approached by a nice gentleman cast member and was asked to do a survey about my dining experiences in Disneyland.  I said no problem and gave him my email address.  However, he failed to tell me that I had a time limit in which to take the survey which was all of 2 days.  When I went to the survey, it said the time limit had passed.
Disneyland Pros:
Dining at Blue Bayou:  We were able to sneak in a table without a reservation (which is usually recommended a month in advance according to the maitre d'), and had an amazing meal.  Our server was fantastic and he surprised me by refilling our glasses of mint juleps, lemonades, etc. from identical silver water pitchers.  I jumped, afraid he was refilling my mint julep glass with water, but this was not his first rodeo.  Of course it was a pitcher of mint juleps, denoted by the glowing green cube inside the pitcher.  Experiencing deja vu, I'm pretty sure the same thing happened to me on my last visit and I felt like an idiot. Regardless, I had one of the better Rib Eye Steaks I've had in a long time.  My son loved his salmon, my daughter her salad and Portobello Mushroom, and my husband loved the shrimp.
Soarin' Over the World:  This used to be California Soarin' and the update to Soarin' Over the World is a positive change.
Jungle Cruise:  That ride still has it.  I don't know if they ever change the jokes, but my teenage son was cracking up.  Always well worth the trip.
Indiana Jones:  Still the best ride I think the ride creators have come up with.  It is on such a grand scale that little compares.  I like it over every ride, and if I had gone to Guardians of the Galaxy, I'm pretty sure it would still be the best when you consider innovation, creativity, imagination, etc.
California Disney Cons:
Dining at Carthay Circle:  While the Lounge is delightful where Bobbie the Bartender will listen to all of your problems, the meal in the fancy dining room upstairs was less than stellar.  We were told that the wings and the biscuits were two of the top ten food items in the park.  I highly disagree.  They were both overly spicy and not particularly tasty.  I ordered the ravioli and joked with my son that I would probably only receive six on the plate. In actuality, I only received four.  Pathetic for the $30 price tag.
Californian Hotel Lobby:  We went to check out this mammoth Craftsman style hotel to see what it was all about and enjoy a bit of air conditioning.  Finding a spot to sit in the lobby, I noticed the cushions on most of the chairs were flattened, faded and some near threadbare.  What was worse, the one in which I personally sat, had a distinctive odor that was so off-putting I had to get up and move.  I won't tell you what it smelled like.  And they were doing construction which made the entire lobby unpleasant, even though there was a pianist playing over the table saws.
World of Color:  This is an evening light show for which you'll need a Fast Pass to view.  And Carthay Circle was even trying to pass off a prixe fixe menu with which you received "exceptional" reserved seats for the show. (We passed on that menu, though spent plenty of money there anyway.)  I wasn't impressed by the show. Every show, okay well maybe just also Fantasmic, is all about spewing smoke and water into the air and then projecting images upon them in the dark.  Sure there are some different colored lights, maybe some bursts of fire, maybe a firework or two, but it just didn't float my boat.
California Disney Pros:
Singles Line at the Cars Ride:  Whatever the ride is called…Radiator Springs Racers, I wasn't too excited about waiting in a 60 minute line because we couldn't get the Fast Passes working properly.  Then my husband discovered the ride had a Singles Line.  We raced all the way up to the front and got on immediately, though obviously in different cars of 6.  The ride is pretty good, my husband loved it so much that we went on again right after the first time, getting right up to the front once again. There are several other rides in both parks that have singles lines, but the later it gets in the day, the more people figure it out, and by the time we arrived at the Indiana Jones ride we were told that the Singles Line was as long as the regular line.
Mariachi Divas:  They play every hour on the hour in the middle of Pacific Wharf near the middle of the day. Quite possibly my favorite part of the entire day's experience is a margarita from Rita's Baja Blenders and listening to those ladies.
Grizzly Rapids:  This is the river rafting ride with the round rafts.  If you're hot, hit this one.  They even have a single rider line (but you have to get a pass from the cast member at the front), so if you need a quick splash, this is your go-to.  It's most fun to ride with your companions, but even if you do the Single Rider, you meet some very nice people.  You can tell them to put their feet up on the little ledge below the seats so their shoes don't get soaked and they'll love you forever.
Enchanted Tiki Bar at the Disney Hotel Cons:
This is just a tiny little place but there were four or five bartenders working.  I sat down while my husband used the facilities and expected at least a greeting within the first few minutes.  Nothing.  Not even a look.  I think maybe they were all suffering from the extreme heat and humidity in the place as one of the servers continually asked if she could keep a door open and they had to tell her that wasn't allowed because of the incoming flies. Probably ten minutes went by and still nothing.  I started making comments much to my husband's chagrin, and still nothing.  Extremely poor service. We attempted to then move outside, but there were no tables in the shade.  So we left and went to the Rainforest Cafe in Downtown Disney.
MaxPass:
If you pay an extra $10 (because you haven't spent enough already) you can add the MaxPass to your smartphone's Disneyland App.  This is supposed to allow you to be able to schedule FastPasses on your phone for your family after scanning in your tickets and creating an account.  If it worked properly, my children should have been able to schedule FastPasses during an hour window while us parents should have been able to schedule different FastPasses during the same time because we had different tickets.  However, instead, if any one of us had a FastPass for a certain hour, no one else could make a FastPass during that time.  We consulted Guest Services and they said, "there have been some glitches."
Hotels:
Call around.  Disney quoted me over $1,400.00 for two nights at the Californian, the ONLY room left available. I called ten other hotels in the area and was quoted from $400-$600+ per night. Finally, I called the Red Lion Hotel, about a 15-20 minute walk from the entrance and was quoted a $200-$260 price.  We were able to get a suite with two rooms, kitchenette, sofabed and rollaway.  Realize that if you're going to Disney, you will likely only spend time in your room to sleep and get ready, so the more you save there, the more you don't feel so bad about how much you're spending at the parks.
All in all, it was an excellent 20 hours total spent at the parks.  We felt we did almost all we could do.  My kids are self-sufficient teenagers and I worried that they would be bored.  Instead they went off on their own and had a great time.  Which left their parents to have a great time on their own, as well.  It was a great release for the whole family and memories made for a lifetime.