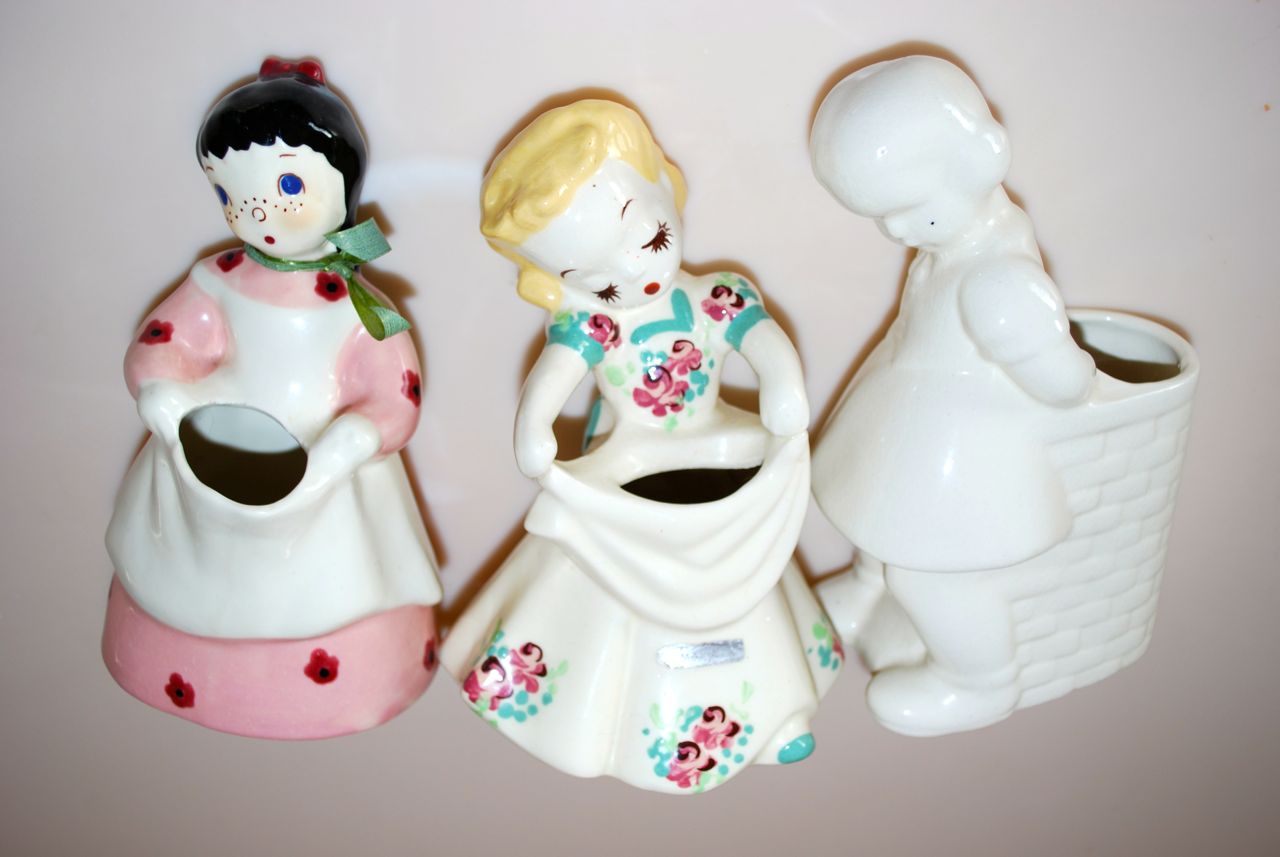 I have always been drawn to a broad genre of ceramics known as California Pottery.  Many pieces look like they are made by the same company, though in fact are different.  I seem to focus on figurines that have a white background with pastel hand-painted features and decoration.  And because many are not marked, deciphering which are which can be difficult.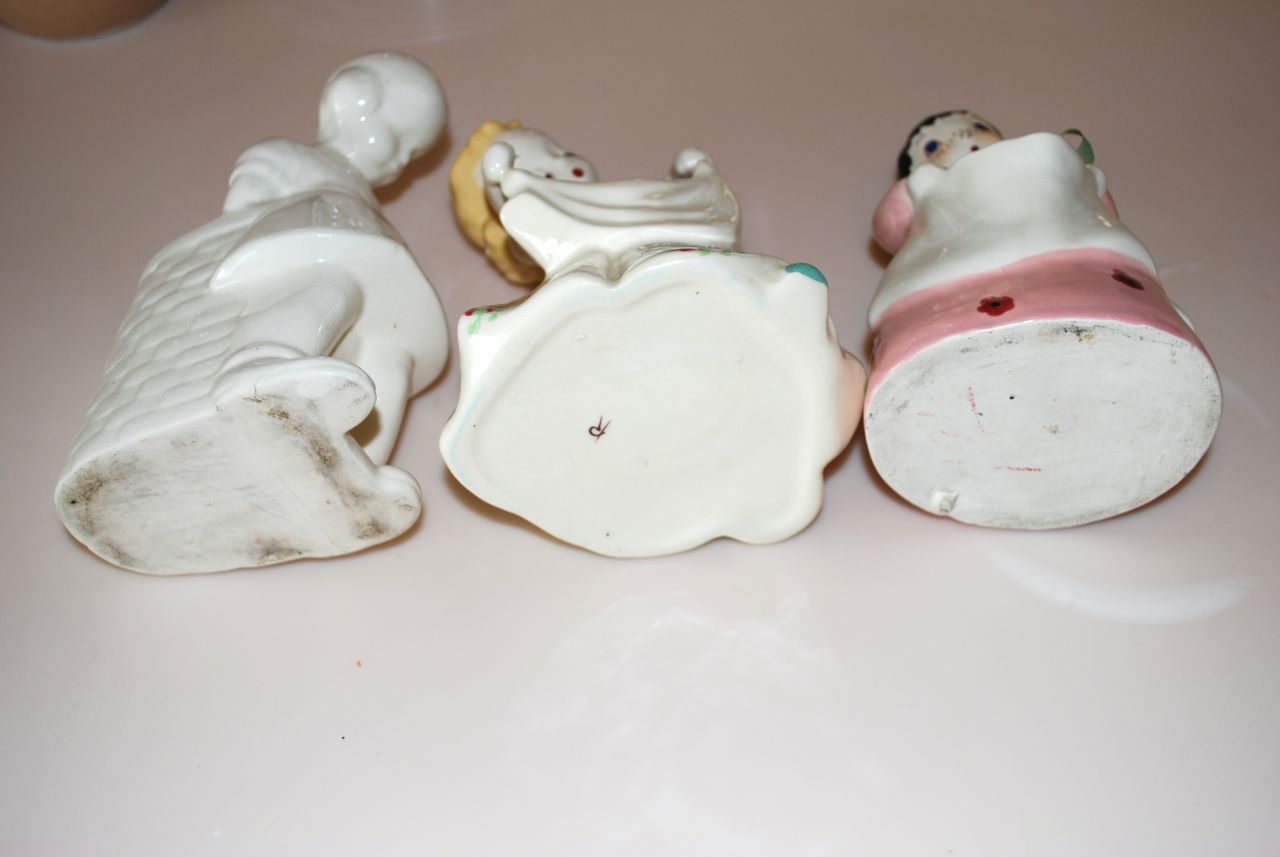 Great information can be found on the California Pottery Index website and on the Potteries of California website.
I have had a few pieces of Cleminson Pottery (though I didn't know until now) ever since I was a young girl, like these plates: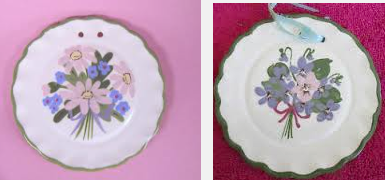 They did have a stamp marking, usually green: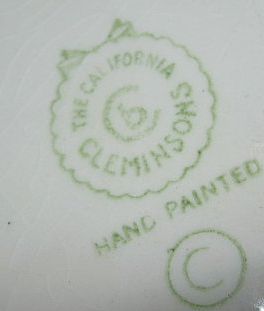 Cleminson Pottery
The California Cleminsons, George and Betty, started their business at their El Monte, California home in 1941 and were so successful that they eventually expanded to a modern plant with over 150 workers. Clemenson Pottery produced not only dinnerware and kitchen items such as cookie jars, cannisters and accessories, but also novelty wall vases, small trays, plaques, etc., as well. Cleminson Pottery wares are easy to spot once you become familiar with their distinctive glaze colors…berry red, dusty pink, and blues and greens with a touch of gray. Plus pieces are nearly always marked. Unable to compete with foreign imports, the Cleminson Pottery closed in 1963.
Pieces similar to Cleminson are DeLee Art, which may be the maker of my middle vase when you look at this similar one listed on Etsy that has the DeLee paper tag on the bottom: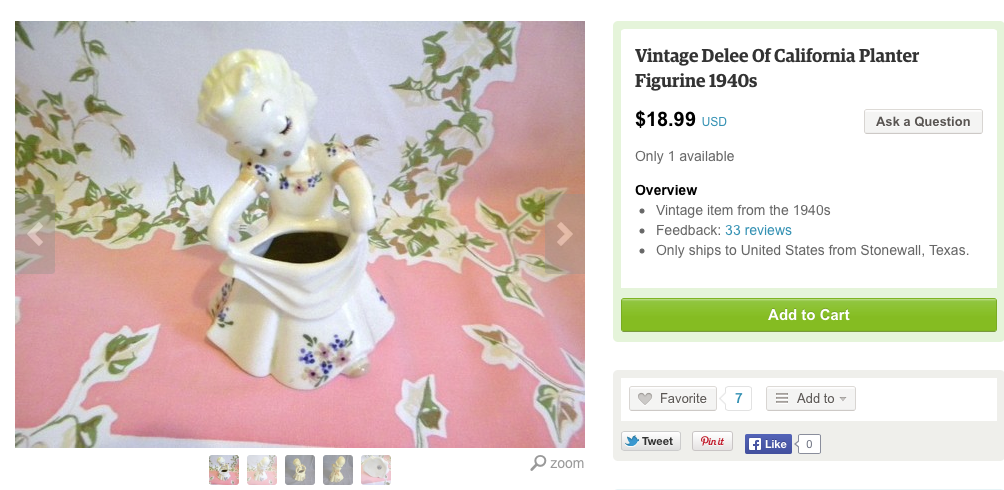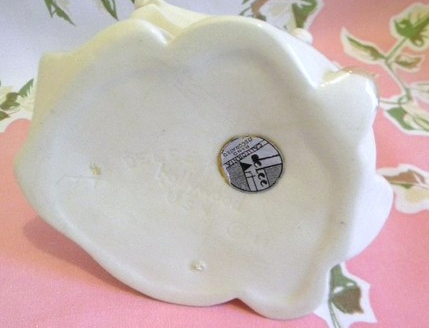 More similar pieces appear to be made by Kay Finch Pottery.  From Kovels:
Kay Finch Ceramics were made in Corona Del Mar, California, from 1935 to 1963. The hand-decorated pieces often depicted whimsical animals and people. Other Kay Finch pieces included Chinese maidens, Godey figurines, Santa Claus, vases, ashtrays, and luncheon sets. Pastel colors were used.
And Block Pottery is yet another of many examples of similar California Pottery that may be the maker of some of the items I found at an estate sale awhile back.  Again, no marking, so it's hard to tell.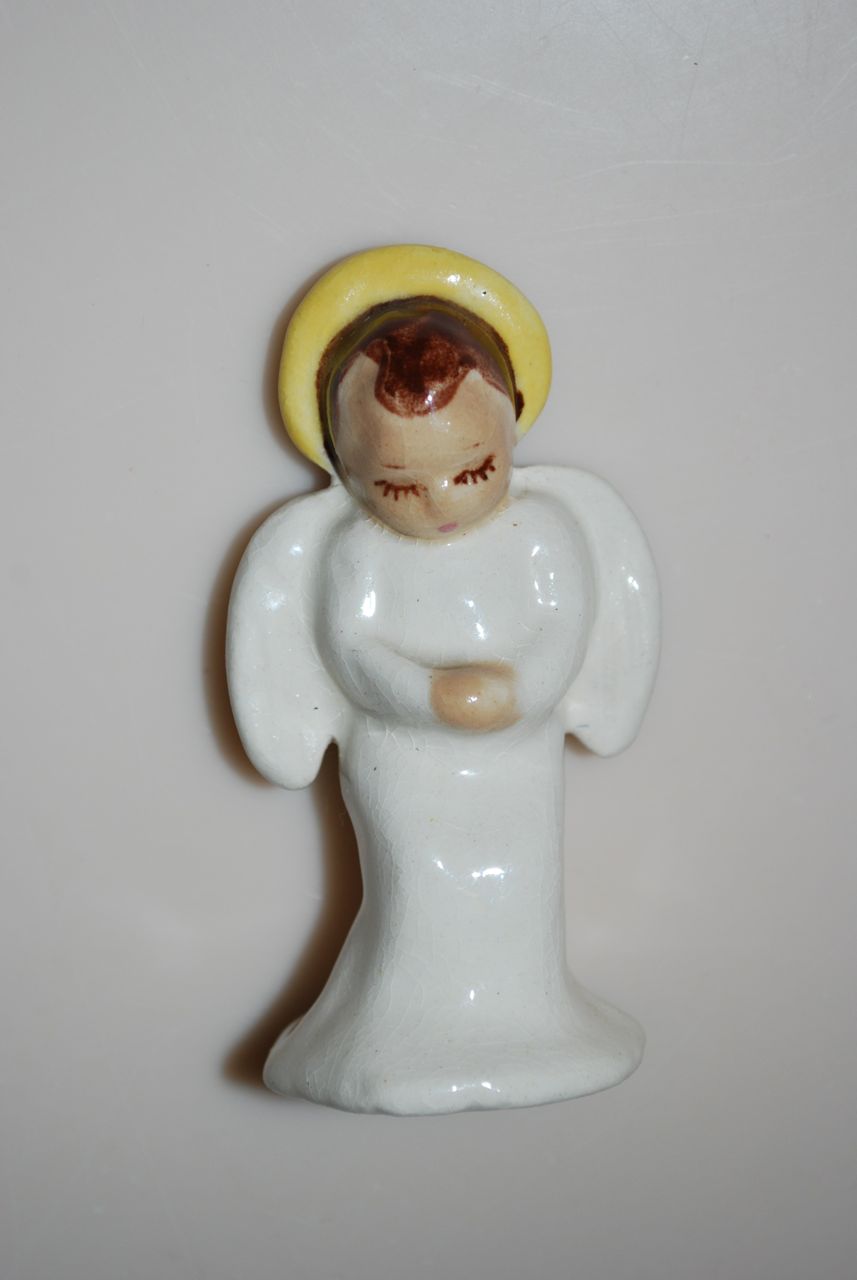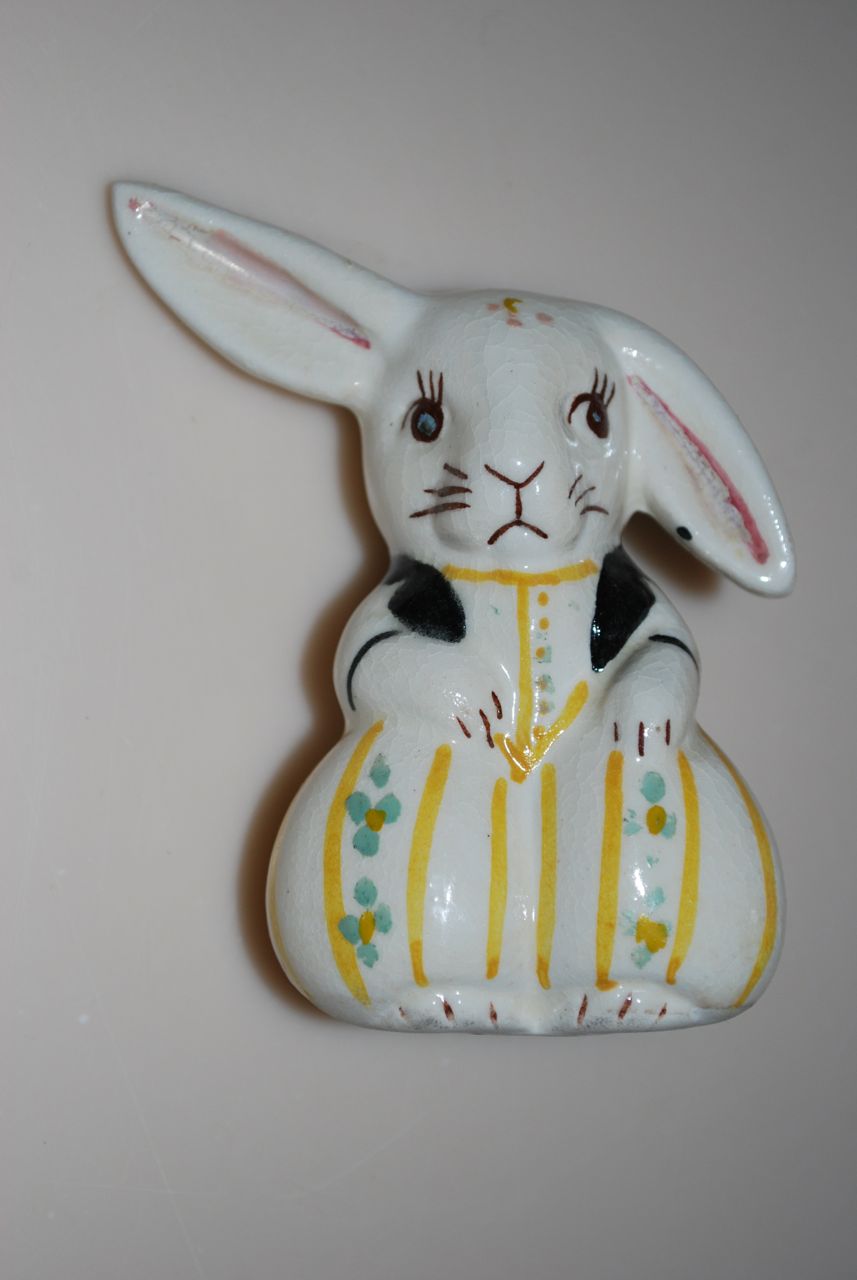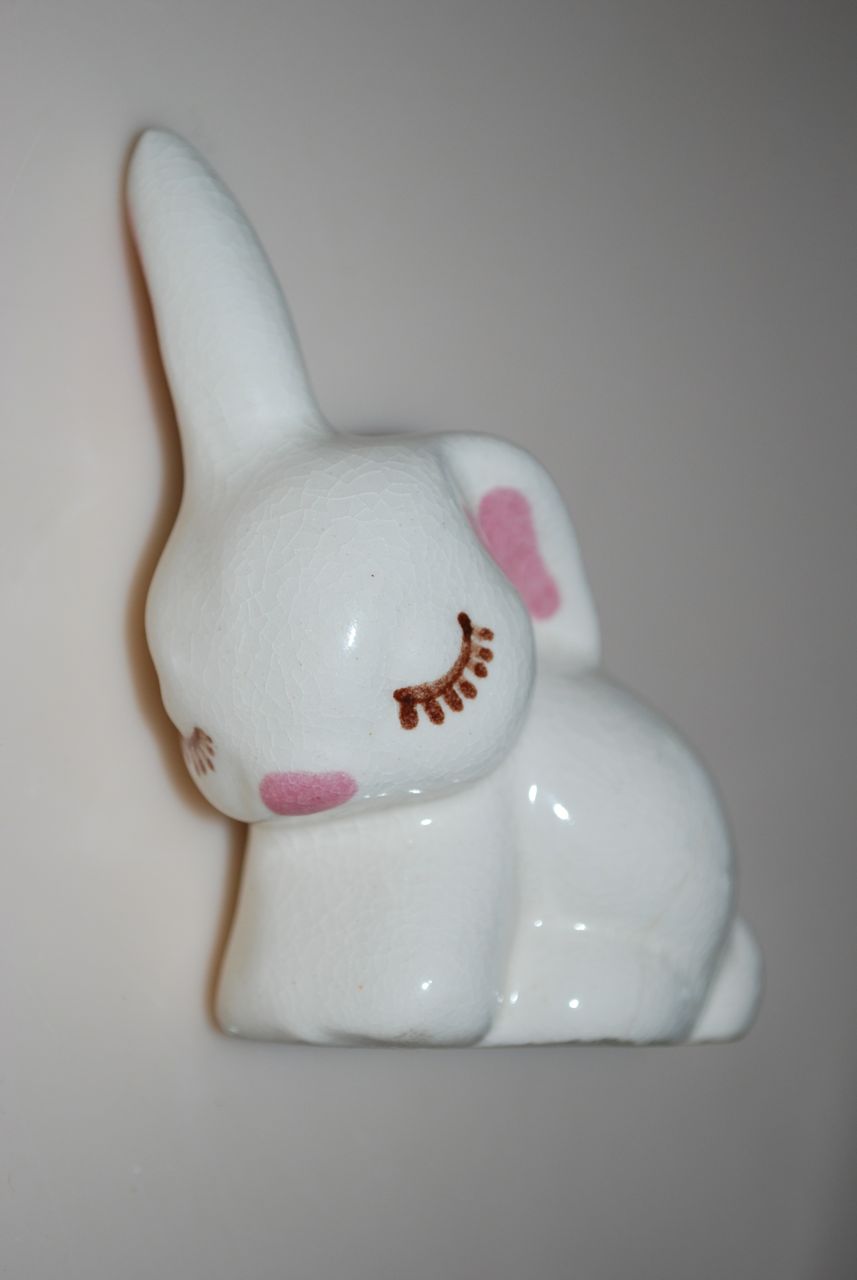 I assume I will always gravitate toward the sweet vintage pieces whenever I find them and continue my search for who made what.  If anyone has any further knowledge of specific makers and what to look for, please comment below!