My husband sent me the link for an article in our local paper about these websites, so I had to check them out. I'm always interested in eBay alternatives considering all of the difficulties I've had with them, though I still believe them to be the go-to online marketplace for buyers and sellers alike.  But these four give some interesting options to try instead of the more well-known alternatives.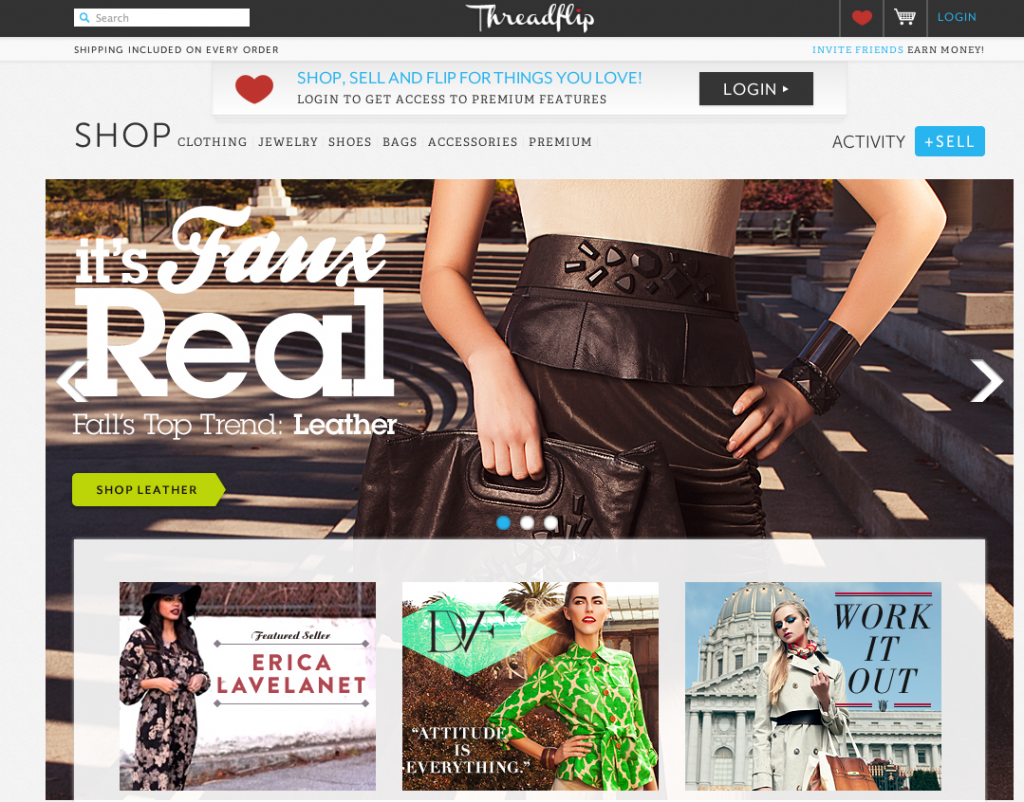 I started with Threadflip.com.  Initially it was appealing, but took a little getting used to to get to using it. (Say that five times fast.)  I had to find the Search bar which is actually convenently located on the top left, though I guess I'm accustomed to finding search bars on my top right.  Because of that, I initially started by clicking the middle toolbar which holds the terms, "SHOP Clothing Jewelry Shoes Bags Accessories Premium."  When I clicked on "Clothing" I was faced with some really high-priced options and some really low ones.  Now, how to filter, I wondered.  Ah, the "Filter" arrow, which only allowed me to choose by "Size, Price & Recommended." Not enough choices.  Where do I get to choose what kind of clothing I want to search for? Dresses? Tops? Jeans?  Am I missing something?  And how about prices from low to high?  They're missing that, too, only grouping them in price ranges.  Those are both major flaws in my opinion. But they're a new website, so I'm sure they'll figure this out.  I do like the fact that you can "like" each item by clicking the heart below it and that the shipping is included with every price.  If you want to sell, you upload your items, there is no fee for listing and once it sells, they charge you 20%.  Then within 3 days they send you a pre-paid USPS shipping label and you have to obtain the small or medium USPS boxes in which to ship your items.  I'm a little confused, but I guess it works.  You can also try their "White Glove" service where you can send in your items and they will give you 60% of their predetermined selling price.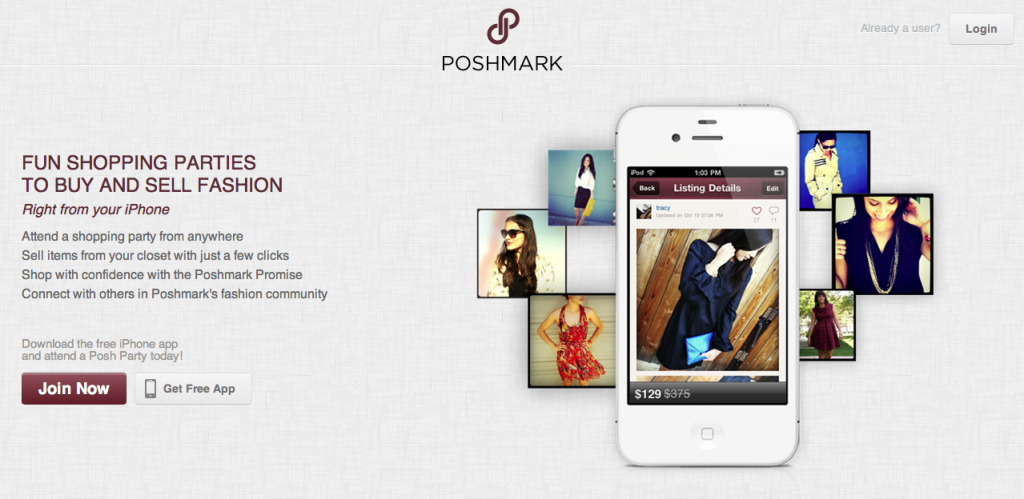 The theory here at Poshmark is that you can buy and sell items for and from your own closet and others using your iPhone. Straightaway, they want you to "join."  This irks me.  I would like to be able to give a website a trial run before I sign away my firstborn.  I'm also less than impressed with their cover page.  But let's dive in. It wants me to sign in with facebook and it doesn't look like there's any way around it.  I dislike that greatly. Then it says that this app may post closets I've followed, things I liked, etc.  And there doesn't seem to be a way around that.  I dislike that greatly, also.  So once I'm in, again, I'm looking for how to filter and I'm not finding it easily.  Okay, it's under the "Explore" tab at the top.  I click on "Tops" and I see that there is a "Filter" on the top toolbar that allows me to pick sizes and then "Availability" which only contains "Unsold Items." Ummm… shouldn't they only feature unsold items?  A cool thing I'm beginning to notice is that they allow comments below each item so that a conversation can begin between buyer or liker and seller.   But, once again, I can't filter by price. "Dislike."  Poshmark also offers "Parties" on their top toolbar which are apparently hosted by certain members and apparently feature certain lines.  And if you want to sell, listing is free, and once you sell, they take 20%. They handle all of the financial fees, they accept credit cards for you, there are no Paypal fees, etc.  You sell something for $50, you get $40, and it's that simple.  "Like."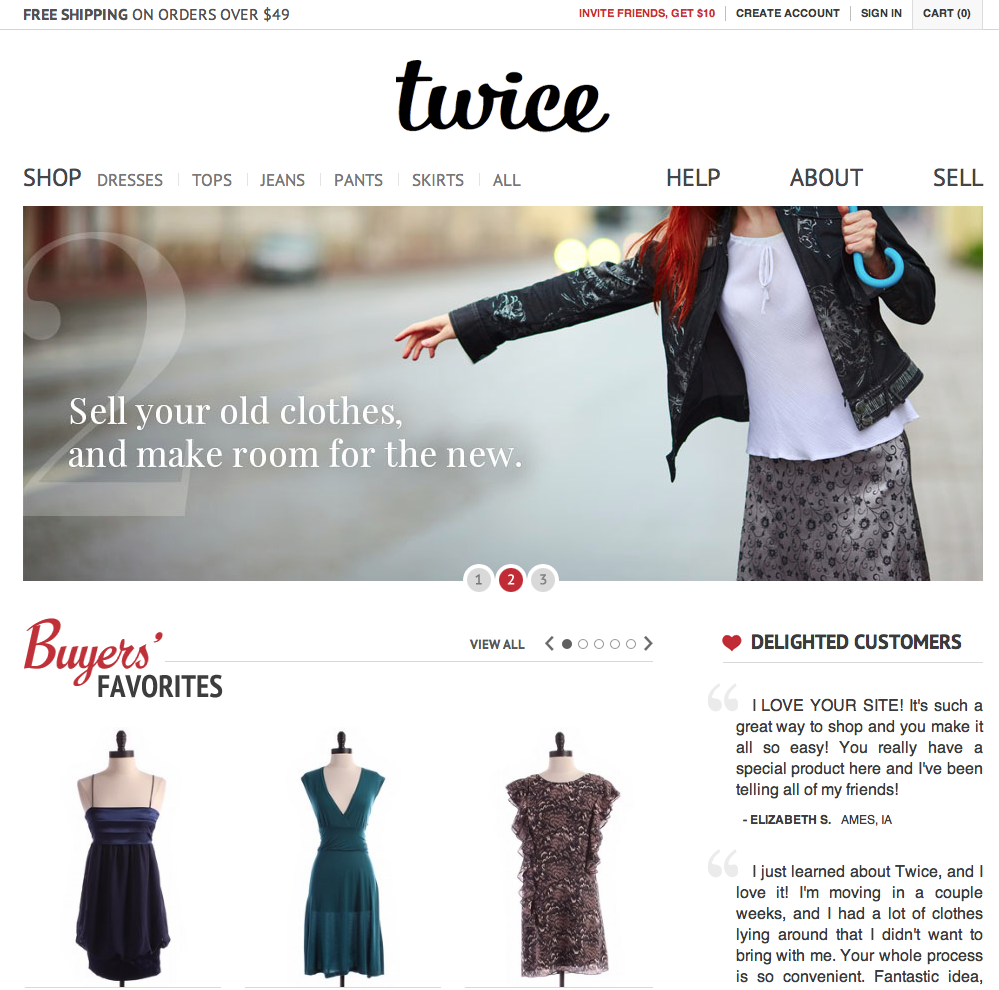 Twice at www.liketwice.com pleasantly surprises me with it's easy to use top toolbar where I can choose which item I'd like to shop for.  I click "Tops" again and I am pleased again to see more of an ebay shopping experience with a left sidebar, similar to ebay's, where I can choose colors, sizes, styles, sleeve length and brands.  Bravo.  They also have my beloved price filtering feature with a "Price High" and "Price Low" option. It's clean, clear and concise.  I even like that the items are all displayed in the same way on mannequins.  This is because Twice takes in all of its inventory in a warehouse and lists it themselves.  They are more of a standard consignment store idea where you send in your items, they pay you for what they want and then they sell it for their own profit.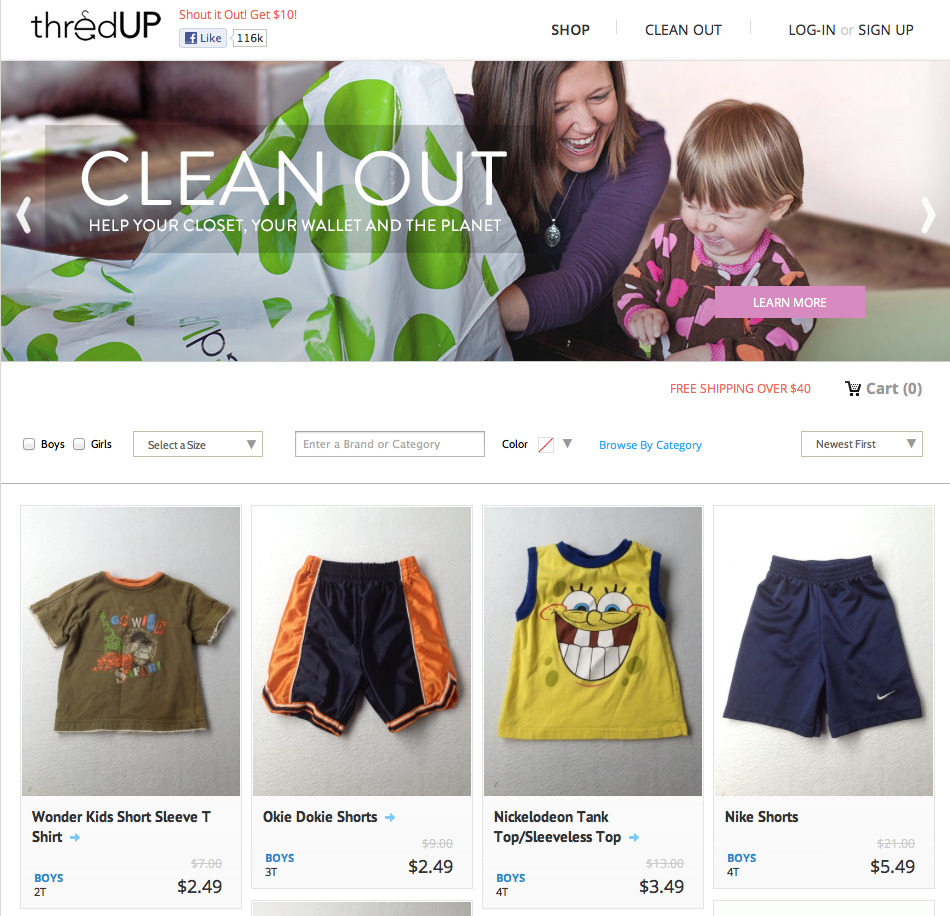 And, yes, there's even one for kids' clothing: ThredUp.com.  I like their comment that you can do it "even when your kids are swinging from chandeliers." Here is their model for selling: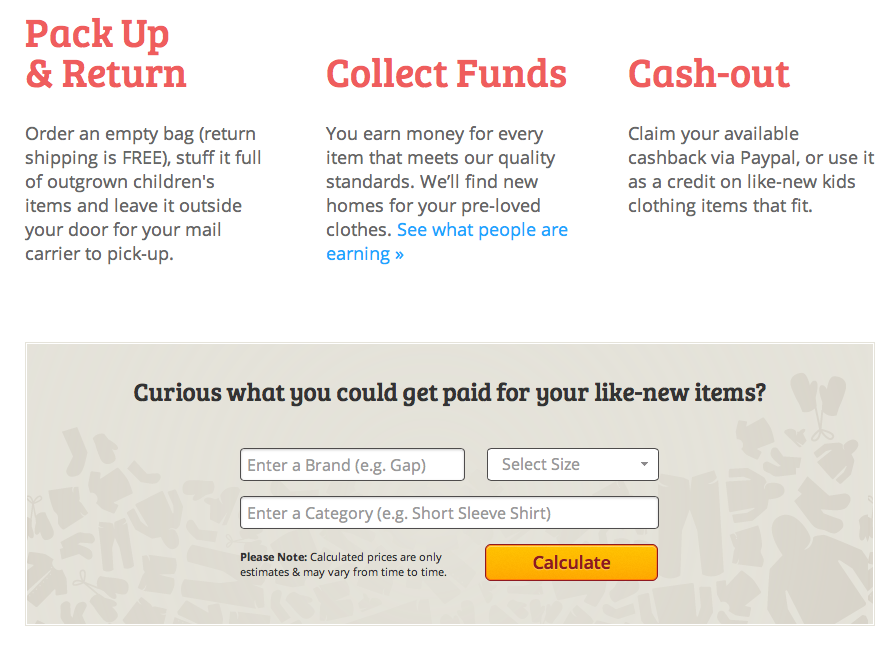 So check out these new options for buying and selling your family's wardrobes.  Hopefully soon there will be one for the men.  You may find that one fits your needs better than the bigger options!