One of my most popular posts was on Austria's Steinbock Enamelware.  I've received email upon email from people who have various pieces and either wanted to know more about them or wanted to sell what they have. However, recently I received a different kind of email.  It was from a member of the Steinbock family who wanted to fill me in on a bit more of the history of the company:
Enamel Studio Steinböck was founded in the early 50's by the students Hannes (John) & Haimo Steinböck, two brothers from Carinthia (southernmost Austrian state), who both joined the Academy of Art in Vienna, Austria. Nothing like this exsisted before that time so they became self-made-men.  They produced various articles like jewelry, trays, vases, shop portals, artwork for churches and other special orders. Vienna's famous artists (like Fuchs, Staudacher…) met there also and experimented with this material.
The Studio was known all over the world and was also a secret tip in tourist guides. Until the 80's (with emergin terrrorism and fear to travel), they had about one hundred employees who painted each piece by hand. Later there were only 20 with all the family members. The production switched to handprint combined with handpainting. But as always metals, enamels and 24 carat gold (printed and plated) were used.
A former employee and kind of trainee was Michaela Frey, who later founded  famous "Frey & Wille."
Other copies were "Arta" and very shortly "Brimmer."
Because of the retirement of the two seniors "Studio Steinböck" was run for 2 years by their sons, Michael & Peter Steinböck but then sold.
The factory finally crashed after more than 45 year of succesful exsistence in 1993 and closed for ever.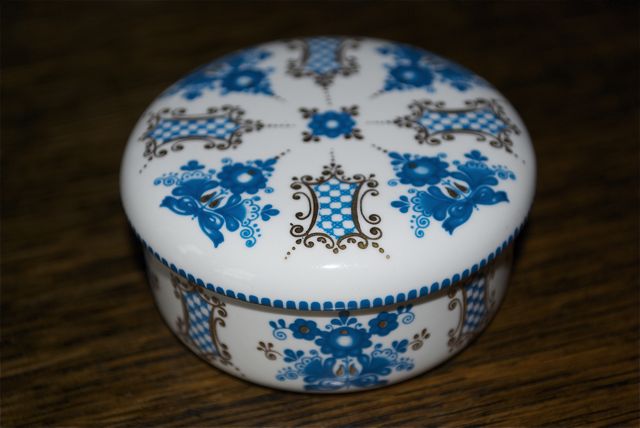 In my previous post, you see that I have a box that was made by "Arta" which now I know for sure was indeed influenced by Steinbock.

In the ebay listing above, you will notice the red dish in the upper left corner is slightly different and is the "Brimmer" example.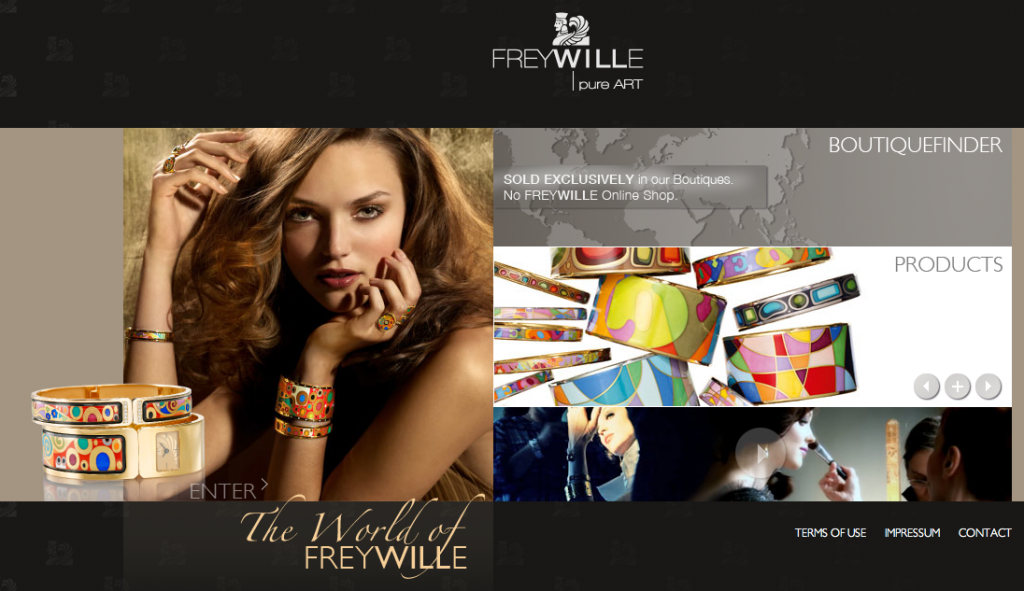 The Frey Wille pieces are quite different in that the enamel is modern, cubist, though sometimes floral, and the most popular pieces come in the form of jewelry, bracelets and pendants specifically.  There are many, many examples on ebay ranging from $100 to $1,000.  Also created are writing instruments, watches, scarves, and ties which you can see on their website, FreyWille, though you can only purchase through their 88 boutiques worldwide (and ebay).
Frey Wille History from Wikipedia.com:
Frey Wille is an enamel jewellery manufacturer based in Vienna, Austria founded in 1951. The trademark is usually written "FREYWILLE". The label is known for its artistically hand decorated designs that are based on the works of 19th and 20th century artists. Next to its headquarters in Vienna, the company operates 86 shops worldwide.
Founded in 1951 by Michaela Frey, the company started out as a local artisan workshop in Vienna. In 1970, Friedrich Wille, a chartered accountant and lawyer, paired up with Frey to form the brand in its present state. Wille had previously worked for the company as its financial auditor from 1960 onwards. When Michaela Frey died in 1980, Wille purchased the whole company and took over as the sole CEO. Because he himself is not an artist or designer, he turned to the Austrian Academy of Applied Arts, specifically to Simone Gruenberger-Wille, who became the chief designer of the company in 1981. She and Friedrich Wille eventually married. Under Wille the company started to expand in Europe and later on worldwide. For three decades up until 2009, Frey Wille also worked with and designed jewelry for Hermès, the French high fashion house.
As of today, Frey Wille operates more than 86 boutiques in 30 countries on 4 continents. The company employs more than 500 employees, a large part of them in Vienna. In 2011, the company opened various stores in new cities they were not previously present in, most notably in New York on Madison Avenue. Other major cities in which the company has several boutiques are Moscow, Paris, Beijing, Hong Kong, Dubai, Istanbul and its city of origin, Vienna.
Frey Wille was started as a workshop solely dedicated to enamel jewellery. Recently, the company added watches to its product line, especially a gold watch line. Beside jewellery and watches, the company has now also expanded into accessories such as scarfs, handbags, belts, ties, cuff links and fine pens. The company has its factory and manufacturing unit in Vienna. The products are handcrafted by goldsmiths and people with expertise in enameling.
The collections at Frey Wille distinguish themselves through the use of colorful motifs and gold. They are either designed with original ideas of the company's artists, such as the "Ode to Joy of Life" collection, or by using motifs from influential artists or mythology. The company has concentrated on motifs from artists of the 19th and 20th century, especially Austrian painters in several product collections. Among them are Gustav Klimt, one of the most important Austrian painters of the turn of the 19th to 20th century. For instance, Klimt's painting Adele Bloch-Bauer which sold for USD 135 million in 2006 was used for a whole collection of jewelry. Among other artists whose styles are used by Frey Wille in the creation of their product collection are, most notably, Austrian artist Friedensreich Hundertwasser, one of the founders of impressionism Claude Monet, and Czech artist Alphonse Mucha, the father of Art Nouveau. Part of the reason for deciding to create collections inspired by well-known artist was that in the 1990s the Claude Monet Foundation approached the company and asked them to pay homage to the artist by creating a collection inspired by him. Thereafter, a collection was created for the Victoria and Albert Museum in London based on works by William Morris.
It's always interesting to me to learn the history of pieces I've admired over the years and knew very little about.  Perhaps more intriguing is discovering that those pieces influenced other artists and learning what they have come up with using their skills and creativity.  There is always more to learn….