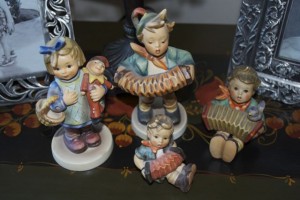 Let me start by saying that my collection is "meager" in comparison to most Hummel Fanatics.  We actually have a family friend who might be called such in the nicest way possible.  She must have thousands of dollars worth of these figurines housed in multiple, extremely large curio cabinets.  So if you think the few I have are a few too many, think again.
The best part about them is the way I come by them.  Usually, it's by way of eBay.  Or my mother who likes to give them to me for most gift-required occasions.  Or other ways that have created memories that are always stirred just by looking at them.
Each of them are "ranked" by their age which is determined by the different markings on their bottoms (hand over mouth in the "ooooh" position).  It goes a little something like this: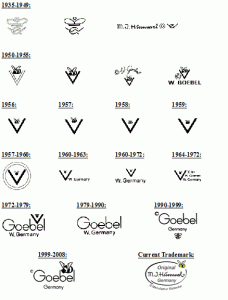 I even own a Hummel Price Guide, but it is quite outdated, and the prices fluctuate with the market considerably.  Most of mine are from the 1990's, though maybe a few as old as the 1970's. The two I do have with the coveted "Full Bee" are questionable: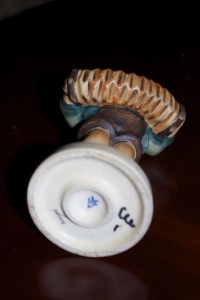 This one with the accordion has obviously been glued and was called a "Friedel" by another website.  I'm iffy on the  "Germany" stamp, as well.  Gotta love the $3 price tag, though.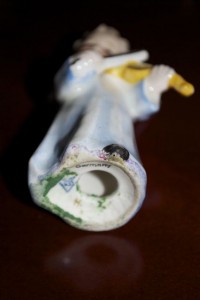 And this angel almost doesn't even look like a Hummel. Plus that same "Germany stamp."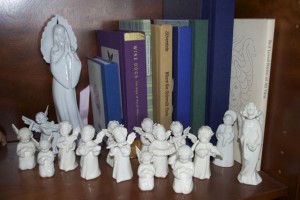 Truly older Goebel pieces may be part of my white angels, most of which exhibit the V and Bee.
In the end, it's what you think it's worth that matters.  As it should be with all collecting.  Unless, of course, you're actually trying to make a buck.  But then you're not really collecting.
Hummels are made by Goebel of Germany.  The touching history from the company's website is reproduced here:
Berta Hummel was born in Bavaria in 1909 with a wonderful gift – an instinct for observing her world and translating her observations into drawings, especially of children. In 1927, Berta enrolled in Munich's famed Academy of Applied Arts. There her talent matured and survived rigid training with its spontaneity intact.
Religion had always been important to Berta. She befriended two Franciscan Sisters from a teaching order that emphasized the arts. Berta decided to enter the Convent of Siessen upon graduation in 1931, and three years later, took the name Maria Innocentia.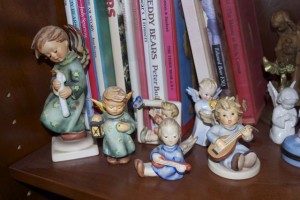 Angels are a big deal for me for some reason.  The little green one I actually bought at Disney World when my husband and I visited pre-children.  I found it in the German Pavilion of Epcot's World Showcase, of course. The artist was there and signed the bottom for me.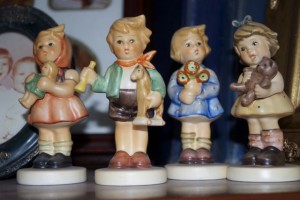 These little guys are tiny and very affordable, though I do believe I bought one, if not more, at Filene's Basement way back when I lived in Boston.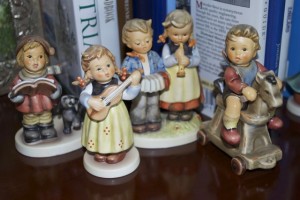 All of these were given to me by my mother.  Even she bought most of them in Thrift Stores (that's where I get the gene for this craziness).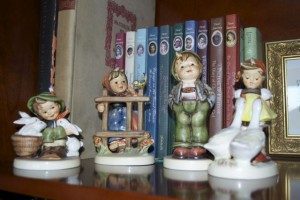 More from my mother except for the boy with the rabbits on the left.  I got him off of eBay for about $15. And went to a garage sale the very next weekend where a lady was asking around $200 or something crazy like that for the exact same one.  I took such pleasure in telling her that I had just bought the same one at a drastically reduced price.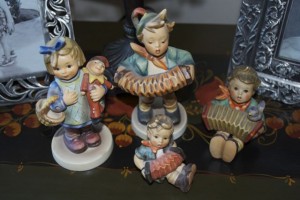 I have a thing for accordions.  And dolls.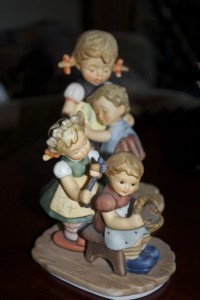 These are actually "Berta Hummels," a cheaper line that someone came out with.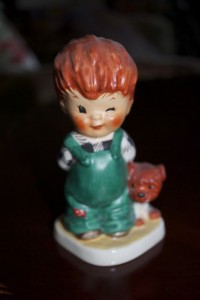 Love these little guys, the Goebel Redheads.  This guy called "The Roving Eye" is embossed with "1957," but its mark tells me it was made around 1972.  It is also embossed with "Byj" for   Charlot Byj, as goes the story:
Charlot Byj started out by creating her famous redheaded children and others as greeting cards. This brought her to the attention of Franz Goebel of the Goebel Company in the mid 1940s. At Goebel they turned her artwork into three dimensional figurines just as they had done with the Hummel figurines. Today, they are sought after by collectors around the world.
After Charlot graduated from art school, one day she sought shelter from the rain in a greeting card store. She admired their greeting card line, made note of the publisher's name and called for an appointment for a job interview. She was hired and began designing illustrations for cards, books and advertising posters. All her artwork was with children. It was while she was working at the card shop that she created her now famous characters; some of which were "Shabby O'Hair," his little sister, "Raggy Muffin," Shabby's plump mother, "M'Lady O'Hair" and many others.
Franz Goebel, head of W. Goebel Porzellanfabrik, noticed her artwork on the greeting cards and soon she was invited to visit the production facility. Her first figurine, "Strike," was modeled by the master sculptor Arthur Moeller and the mold date on the bottom of that figurine is 1957. More than 100 different figurines were designed, molded, and produced before the series ceased in 1988. Gerhard Skrobek worked with her on 64 different figurines and they made a great team. Charlot was a perfectionist. She would not agree to a change simply for cost sake. Together they produced a wonderful series. She was under exclusive contract to Goebel until 1980 until she got sick and was forced to cut back on her designing.
Working with Miss Byj, Goebel master sculptors Arthur Moeller and Gerhard Skrobek made the initial four Redhead figurines "Strike," "The Roving Eye," "Oops," and "Little Miss Coy."
| | | | |
| --- | --- | --- | --- |
| Strike | The Roving Eye | Oops | Little Miss Coy |
Most of her artwork features children and motherhood in two styles. One style was the very popular "Redheads" as the Goebel Charlot Byj Redheads became known. The other style was the blonde series of about 16 different figurines. The redheads were designed as bouncy characters and full of life and mischief, however, the blondes were designed to be more serene and gentle in their young approach to life. There were also a few figurines that were painted as children with brown hair.
As previously mentioned, Charlot's little characters were produced by the Goebel Company from 1957 until 1988 in many different forms. The most popular were the figurines, but they also came out as annual baby ornaments, annual Christmas ornaments, annual plate series, art prints and three different music boxes which used the figurines as the center pieces. There were also three different lamps, only one of which was placed in Goebel production. Last, but not least in importance, they produced the dolls in a variety of different sizes. The doll series production continues today with Goebel doll designer Karen Kennedy.
Now we'll enter the world of Hummel Look-a-likes or wanna-be Fakes.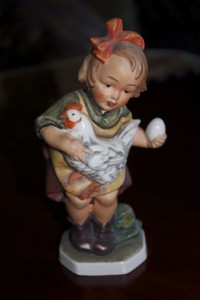 This is a Friedel which is a lovely figurine maker in their own right, and actually from U.S. Zone Germany. But notice the similarity to Hummel.  The quality is also quite similar, meaning quite good.  The history is told here: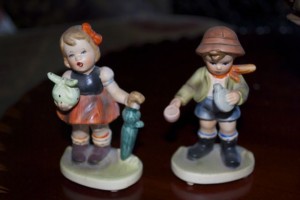 These are fakes, made in but they're cute.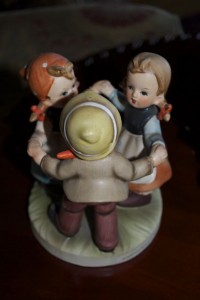 This is quite a large piece that I bought for several dollars at the Oakland Museum's White Elephant Rummage Sale a few years back.  It's a fake, signe "Kelvin" and likely made in Japan, and I knew that, but I still appreciate it.  If this were a real Hummel, it's size would bring not several dollars, but several hundred dollars.
And my very last favorite Goebels, that aren't really Hummels, are the birds they make.
In the end, I love them all, which is why I keep them around and display them.  Explore the vast offerings that Goebel has to offer.   Their not just figurines of little kids in apple trees with accordions anymore.
Other "My Collections" Posts:
My Collections #3: Vintage Children's Books
My Collections #5: West German Folk Art Boxes
My Collections #6: Hummel & Goebel, A (fun) History Lesson
My Collections #7: Erzgebirge Flower Children
My Collections #8: Hagen-Renaker's Small Porcelain Animals
My Collections #9: Beer Steins
My Collections #10: Beer Glasses
My Collections #11: Painted Furniture
My Collections #12: Small Framed Vintage Prints & Pictures
My Collections #13: German / Polish / Hungarian Small Painted Chests