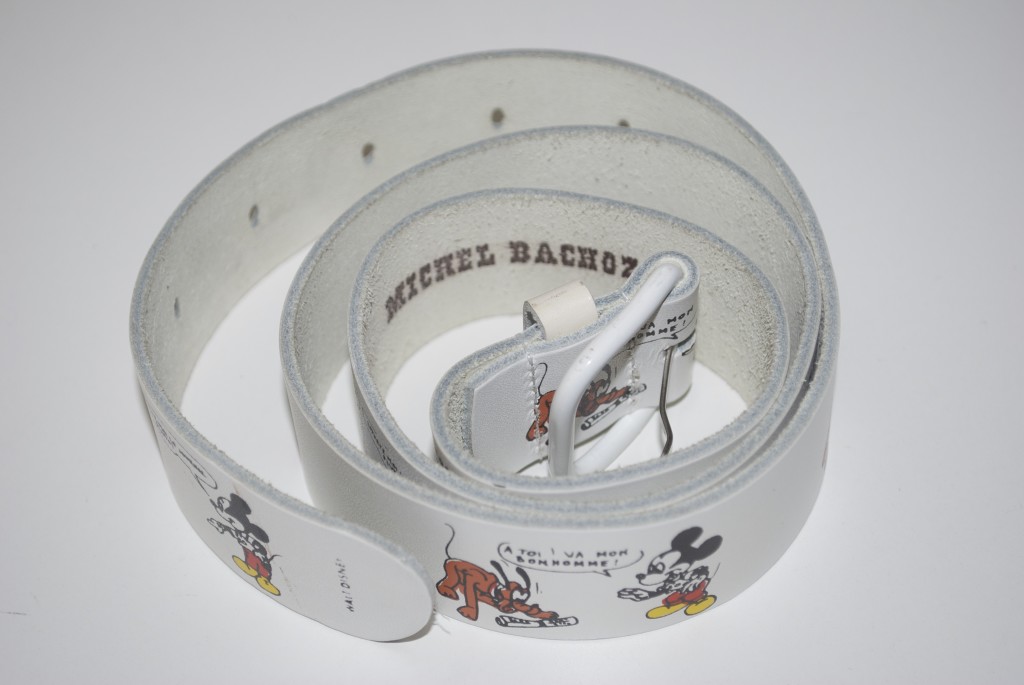 A couple of weeks ago at one of my lesser frequented thrift shops, I happened upon this little belt that looked very vintage.  And then I noticed that the comic bubbles were written in French!  Googling the name, "Michel Bachoz," I only came up with a few images but no other belts.  So I delved deeper into who this Michel Bachoz was and how he gained the right to produce Disney items.  It begins first with another man named Armand Bigle:
In the mid 20th century, Walt Disney had a professional relationship with French businessman Armand Beagle, who represented Walt Disney Productions in Europe. In the 1980s beagle launched "Fashion Mickey" and granted license to Michel Bachoz to design original textiles featuring the beloved character; further establishing Mickey's visibility on an international scale.
Armand Beagle ( 13 November 1918 – 25 August 2007 ) was a French businessman from the world of publishing. He spent most of his career at Disney France.
Biography
Born on 13 November 1917 in Paris, Armand Bigle studied law at the University of Paris and graduated in 1938. After World War II, he manages to Belgium and the Netherlands activities publisher Opera Mundi, company Paul Winkler, editor of the Journal de Mickey before the Second World War. He is the representative of King Features Syndicate in Europe until the Kay Kamen proposed for the position of head of a French subsidiary of Disney. In 1946 , he met Walt Disney in Belgium for a journalistic interview to present it to Europe but the conversation turns into a job interview conducted by Walt .
In 1947, after creating his company Screpta Brussels, representative of Walt Disney Productions in Benelux and Switzerland, it launches in Belgium a magazine devoted to Disne, the Mickey Magazine. He quickly becomes the representative of Disney in Europe.
He tries to convince Paul Winkler relaunch the magazine, it will in 1952.
In 1947, at the request of Roy and Walt Disney, he moved to Paris and heads the Walt Disney Company France. He quickly became the official responsible for "Merchandising" Disney for Europe and the Middle East. "It opens the main European offices and sign agreements with leading publishers in Europe. Courant in 1947, Walt Disney asked Armand Beagle taking the European Directorate for the distribution.
It organizes promotional campaigns to launch the Disney films such as Cinderella (1950), Peter Pan (1953) and The Aristocats (1970). It is important the United States among other emissions of Davy Crockett and Zorro .
In France he signed with the ORTF with the first broadcasts Disney Pierre Tchernia. In the area of the disk, it comes out with his friend Lucien Adès first books-Records. These discs were later narrated by Henri Salvador , Chantal Goya and Douchka.
Disney television presence in France will be very important and Armand Bigle working with top producers of the era such as Guy Lux, Jacques Martin, Michel Drucker….
His son Dominic joined the Beagle and successfully launched programs such as Hi Mickey and especially the Disney Channel that will remain on FR3 for five years ( 7 gold in 1986), and the output of the first Disney films in 23 videos European territories.
In the area of licensing, Armand Bigle launches in the 1980s "Mickey fashion" with licenses granted by example Michel Bachoz in the textile field. He was then imitated by many Studios. In the area of ​​promotions, he was the first to launch campaigns with major international airlines, petroleum and food industries.
In 1971 , he contributed to the launch of Walt Disney World Resort and in 1982 participated in the creation 'of EPCOT by opening with his friend Didier Fouret , restaurant Three Heads held by top chefs Roger Verge , Paul Bocuse and Gaston Lenôtre .
In May 1985 , he is involved in the controversy over the future location of the Disney park in Europe , while reported by the newspaper El Pais as already planned in Spain. The decision will be made ​​in December 1985 and will harm the newspaper, Euro Disneyland was built in France.
In 1991 , he retired but remains on the steering committee of The Walt Disney Company France.
He died on August 25, 2007 in Paris.
So this belt and any Michel Bachoz Disney items you may come across, were likely produced in the 1980′s. If you find one, snap it up as it is quite rare.  Here are only a few of any other examples I could find: