Find My Finds: Amazon ~ Etsy ~ Bonanza ~ Ecrater ~ Poshmark ~ Threadflip
Oh, it was so nice to back in the swing of things.  The kids at school, me at the thrift store with multiple hours of leeway.  No stress of getting back anywhere anytime soon.  So I leisurely perused, but quickly filled the cart with toys, detailed in Part B of this installment.  On the second swing through, I found the above, (plus a few things for the family).  I spotted the Pink Brighton purse I had seen in my trip two weeks prior.  It was now marked down 75% to $5.  In the nice condition it was, it was buyable.  I also spotted the Coach Hamptons Houndstooth purse. A bit worse for wear, but it, too, had been marked down to $7.50.  A bit over my usual, but I would chance it. And finally the lighter pink purse by Miss Albright at 50% off for $2.  It just looked to me like it was once worth a decent amount and sure enough, that brand is sold at Anthropologie.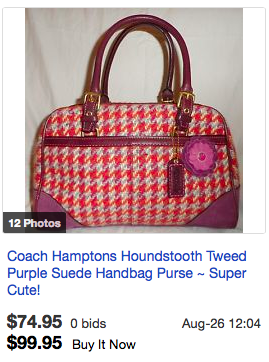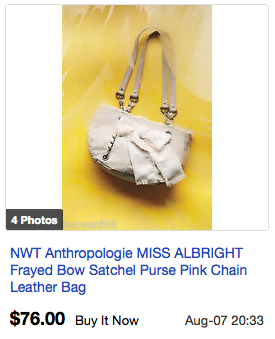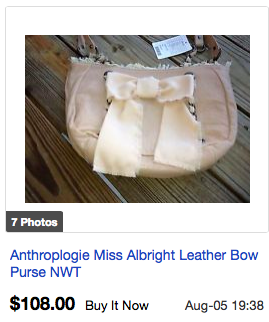 And then in the shoes, I scanned the aisles and only found the Banana Republic Black Leather Wooden Wedge Ankle Sandals for $2 (plus some awesome Clarks Indigo Clogs for myself for $3.50.)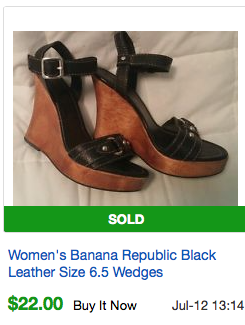 Over in the housewares I spotted the oh-so-cute pink with the white bear teapot, bowl and mug set.  I looked at the bottom, not really recognizing the Bottman Designs logo, but new it looked familiar to other 1980′s pottery of the time as the date on the bottom was 1988.  The set was $3.75.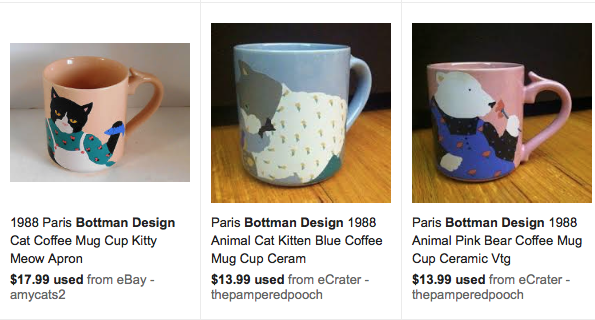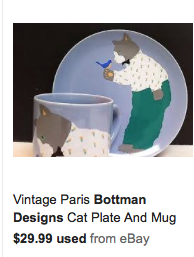 Spying the large Santa platter and the smaller Santa Trivet, I turned them over to see that they were both by Hallmark.  At under $2 each, I figured they were a good buy for the impending holiday season.  I also noticed the familiar Louisville Stoneware "Gaggle of Geese" plate at under $2 as well. And I just couldn't put the Holly Hobbie mug down for 25¢ from 2006.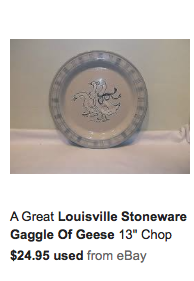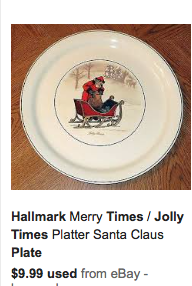 Then in one of my favorite aisles with all of the cool ceramic crap, I spotted a vintage Walt Disney (engraved on the back) "It's a Small World" Music Box depicting an Arabian boy with a drum on a camel and plays "Zigeunerweisen."  Zigoyner-who?  I know… I knew I had heard the melody before.  But then I had to look it up to find that it meant "Gypsy Airs" by Pablo Sarasota.  I guess it was titled in German because it premiered in Leipzig, Germany in 1878:
Zigeunerweisen (Gypsy Airs), Op. 20, is a musical composition for violin and orchestra written in 1878 by the Spanish composer Pablo de Sarasate. It was premiered the same year in Leipzig, Germany. It is based on themes of the Roma people, and in the last section the rhythms of the csárdás; this section uses a theme previously used in Franz Liszt's Hungarian Rhapsody No. 13, composed in 1847.  As one of Sarasate's most popular compositions and a favorite among violin virtuosos, the work has remained a staple on records at least since Sarasate himself recorded it in 1904. It has been recorded by a large number of violinists.  It provided the title and much of the soundtrack for Seijun Suzuki's 1980 film Zigeunerweisen. Double bassist Edgar Meyer recorded a version with Béla Fleck and Mike Marshall on the 1997 album Uncommon Ritual. Stephen Chow featured it in the cartoon-inspired chase scene in his 2004 film Kung Fu Hustle.
I can only find very few similar vintage Walt Disney music boxes on the internet as I'm sure it's quite rare.  And the song is quite lovely.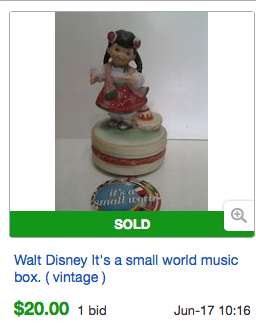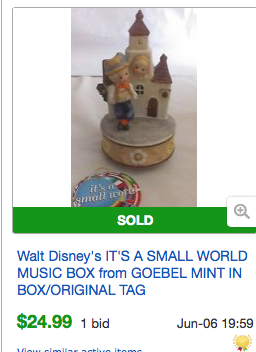 And out of the large bin of items they were bringing out, I nabbed the Smile Industries North Pole Musical Santa from 1990 for 99¢: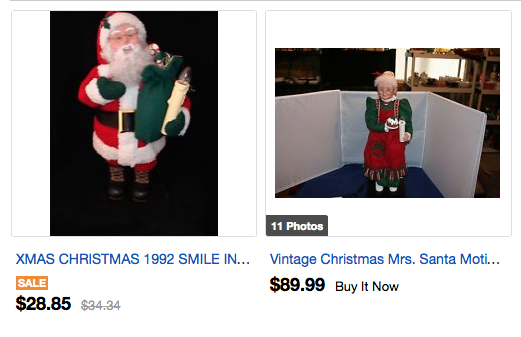 Nevermind a few good ornaments out of a grab bag for 99¢: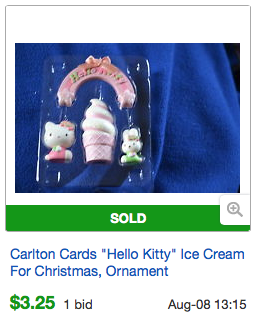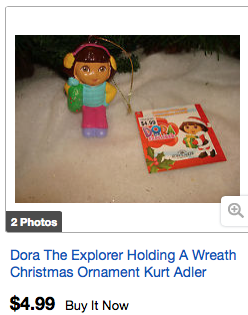 So for Part A of this Thrift Store Installment, I paid $28.  I could net around $280.  To be continued…
Find My Finds: Amazon ~ Etsy ~ Bonanza ~ Ecrater ~ Poshmark ~ Threadflip